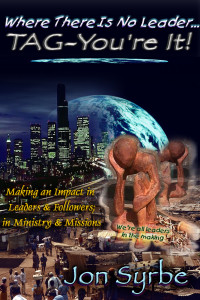 Where There Is No Leader, TAG-You're It -Jon Syrbe
Endorsements
"Discovering an author who can convey their experiences and make them ours is like finding a needle in a haystack. Where There Is No Leader – Tag! You're It! is such a tour de force, which was uncovered in a New York haystack. While maintaining his whimsical sense of style, Jon Syrbe paints a written picture of human behavior worldwide and touches on relevant topics where each of us can improve our interpersonal relations. He calls us to live higher and not settle for mediocrity no matter what our line of work. Working on this book taught me about character, integrity, servant hood, the requirements for quality leadership, and the discernment to know if situations and people are right for my life. I have no doubt that this personal memorandum will be a huge success."
Elizabeth M. DeLuna
Editor-in-Chief
Powerful Publishing, LLC
——————–
"Jon has done a superb job of building a manual that puts theory and theology to work. "Where There Is No Leader" is a handbook of how to apply true Christianity in the real challenges of spreading the gospel and making disciples. Through lived out experiences of working in the mission field at home and around the world, Jon presents biblical principles and procedures in a simple, honest, gut level, rubber-meets-the-road approach. This book is a must read for any pastor, ministry leader, discipleship group, Bible student, missions team or missionary that is working to reach the world with the gospel. It is a tool that will help a serious Christian become more effective in understanding the mission of Jesus, team building, working out conflicts that derail vision and progress, and effect change that lasts in the lives of the people we've been given to reach."
Dennis Bambino, Pastor
Christian Family Fellowship International, NY, USA
——————–
"Jon has led a number of successful outreach teams to some very unique parts of the world. He speaks from experience and emphasizes the practical. I believe you will find it very helpful…."
Stephan Bauman CEO/President
World Relief International
——————–
"Where There Is No Leader, TAG – You're It! is a very practical, helpful and easy to read book on leadership, especially for short-term outreach leadership. It is full of real life illustrations and gives hope to the potential and practicing leader to 'go for it'.
Elisabeth Cochrane
Co-Director
YWAM South and Central Asia
——————–
"Jon Syrbe is the living, breathing representation of II Corinthians 5:17—"If anyone is in Christ, he is a new creation…" Jon is taking the living Jesus all over the world to connect with people who have never seen a real Christian or heard the life-changing message of Jesus Christ. This book contains the real life lessons learned through suffering and joy in the farthest corners of this world. Jon keeps it simple and clear so everyone can know and love Jesus. Enjoy each lesson and experience. Don't be surprised when you find yourself more growing more deeply committed to the God Jon trusts with his whole life."
Jack Crabtree
Teaching Pastor
Shelter Rock Church, NY, USA
——————–
"Practical, engaging and full of guidance for life in the trenches. This book addresses with clarity and simplicity the heart issues of leadership. One need not have an identical theological perspective to benefit from this book. Its principles are ones that have been embraced and successfully applied by its author – a humble servant who is passionate to glorify his Savior."
Eric Dennie, M.A., LMHC, NCC
Mental Health Counselor in Florida, USA
——————–
"Missionary, Teacher, Preacher, Friend of outcasts. Champion for the marginalized, Hero to thousands of children in developing nations, Servant of the poor…" These are the phrases we hear from Guatemala, Mexico, Brazil, Africa, India, China…
Jon Syrbe heard the call of God on his life at age 19 and later enrolled in Christ for the Nations Bible School. Within months he was in Latin America and a few years later on the West Coast of Africa aboard the YWAM Mercy Ship M/V Anastasis. For the last 13 years Jon has traveled the world as a full time Missionary.
He has written a book not only for leaders of Mission Teams but for every believer with a heart for evangelism. His stories are real and from the heart. His photographs capture the urgent, crying needs of the two-thirds world. His experience is real.
As Jeremiah speaks of the fire of God burning within, Jon's heart for Missions ignites the passion for reaching the lost with the great news of Jesus Christ!"
Randy Paige, Pastor
Christ Church United Methodist, NY, USA
——————–
"Jon Syrbe has compiled a very useful handbook for inexperienced leaders who find themselves in non-formal settings. The material is humorously presented, designed to be practical rather than theory, and easily read. It will be an asset to many involved in short-term outreach. Every short-term local church mission's team should have at least one copy."
Don Stephens
Founder
Mercy Ships
——————–
"I remember Jon as an impassioned Bible School student. He was like all young Christians who are in touch with God, but wanting to make their lives count. Jon responded when I spoke on the Call to the Nations. His enthusiasm and desire to make a difference was obvious, so I invited him to join one of our mission teams to Mexico. The rest is history, as Jon discovered the joy of obedience to the "Great Commission"! Jon caught a mission vision and was off and running from then on. He hasn't stopped…for more than 25 years! The world has been his congregation, and the lost have been reached thru his travels. I totally endorse this book and see it empowering a new generation of young leaders. We need them…"
Colin Fullilove
Founder
People For Missions
Chapter/Content Samples